Had my first brew day (really 2 brew days) on my brand new Brew Magic system in my basement setup. Here are some pics of my setup: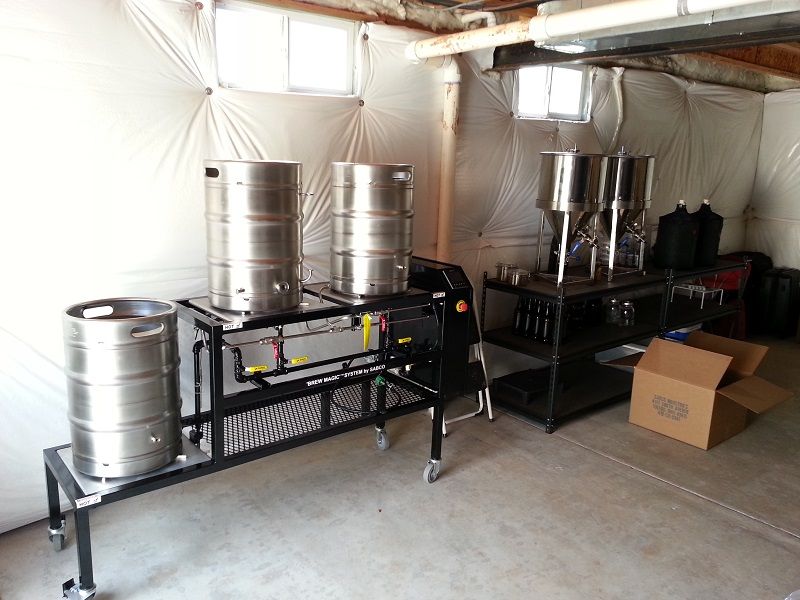 A few thoughts on my first experience with this system:
1. This was my first system aside from the ceramic pot on my kitchen stove that I used for extract brewing, so a big leap from my perspective.
2. This was the first all grain brewing I've ever done and I did 4 batches, 5 gallons each, 2 on Saturday and 2 on Sunday.
3. Everything worked great, I never locked up the pumps, no catastrophic failures, all was pretty straight-forward, the interface/timers/pump controls were all very intuitive.
4. The chill wizard pump will pull liquid from the boil kettle, you don't need to prime the pump, which ended up being pretty convenient for me... also it worked excellent, took maybe 5 min to transfer 5 gallons at a cool 70 degrees (super cold ground-water here also helps).
5. On my very first mash the temp did not want to stabilize for the first 20 min or so, not sure what the deal was but I had to keep lighting the MT burner in short/very low bursts to creep up the temp. It eventually stabilized after 20 min and my other 3 batches had no issues at all.
6. I used the strategy of getting my HLT temp up to about 170, bottom fill the MT with about 1 gallon, top fill the MT with another 3 gallons, then dough in, then start re-circulation. With this strategy I hit my mash temps exactly and re-circulation held perfect temp for 90 min (except for the very first mash, not sure what the deal was there, maybe the system "breaking in"... who knows).
7. B-Brite didn't touch the gunk I had built up after 4 brews with light cleaning/flushing in between batches. I've since scrubbed the kettles with Bar Keepers Friend (amazing stuff) and will soak the whole system in PBW before my next brew day.
8. I know this is a big no-no but I'm using the system indoors in my basement. I wheel the whole system right next to my walk-out sliding door. I have one fan on the door blowing air out and other fan in the basement to help circulate air, and 4 windows open at all times, and a carbon monoxide alarm and a fire extinguisher, and I never left the system while the burners were on (except maybe to take a leak). So far, no disasters although I know this is explicitly advised against.